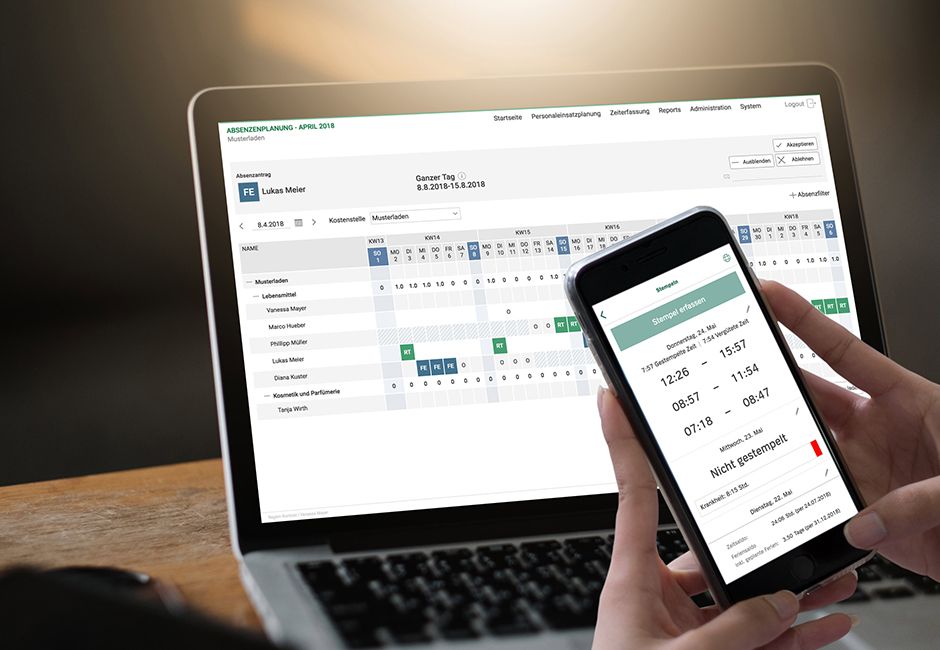 Zebra is a modern system for personnel planning, time registration and access management. It is used in the retail, catering, production, logistics and administration sectors. The solution is a fast Web 2.0 application that can be made available at any workstation without the need for software distribution.
The software supports managers with the task of recording the hours worked by their employees, in accordance with legal and contractual requirements. The management information system gives managers a real-time view of personnel costs right at the planning stage. This enables well-informed planning decisions to be made.
As Zebra is linked to the ERP system, it transfers the relevant wage type and amount for each employee and cost centre at period-end closing. Conversely, the ERP system provides the Zebra server with access to master data and business management data. Business management data is used for the automatic calculation of anticipated personnel costs. Centralised data storage means that information is available throughout the organisation in real-time.
Zebra has been used successfully at Coop, Migros and the Compass Group for several years.
Benefits
Zebra is a focused solution, which is adapted precisely to the company's time management processes.
Zebra automates processes, reduces costs and improves the quality of time management.
Zebra can be integrated smoothly into the existing ERP system environment.
Zebra compares the personnel costs with the budgeted revenue as early as the planning stage, thereby increasing the company's cost-efficiency.
Further information about Zebra can be found in our factsheet.
Contact at Ergon
Reports and News