Across every channel in real time.
7x24x365 authorisation of payments.
CardX enables payments and transactions to be authorised everywhere in real time 24/7 and 365 days a year. From ATM cash withdrawals to payments at the point of sale or online, and by card, TWINT or the SIC instant payments system. CardX checks and authorises credit quality and so avoids the risk of the payer becoming overdrawn. The solution offers flexible expansion options and can be adapted swiftly to the changing market. New means of payment can be integrated easily to produce a state-of-the-art customer experience.
Multi-channel authorisation in real time
Global acceptance, optimised security and total control of sales: ATMs, point of-sale transactions, e-commerce, hotel and rental reservations, TWINT, interbank, coin deposit machines, prepaid card business, cashless counters, QR code withdrawals at ATMs are all fully integrated. SIC IP customer payments and banks' in-house instant payments are currently being rolled out.
Debit cards with boundless possibilities
Customers enjoy all the advantages of a credit card with the simplicity of a debit card: support for the latest generation of Debit Mastercards and Visa Debit cards.
TWINT integration
Secure cashless payments with Switzerland's mobile payment standard, TWINT.
SIC instant payment service / banks' in-house instant payments
The launch of SIC IP will present the Swiss payments system with the challenge of processing individual customer payments instantly within a maximum of ten seconds, 24 hours a day, 7 days a week, and 365 days a year. CardX has everything in place to handle both SIC IP customer payments and banks' in-house instant payments.
Flexible integration of modern frontend services
Full ATMfutura support including direct booking (dual message) and connection to Pialink, Flexlink, and counter services.
Incorporating compliance and fraud checks
To keep lead times short, compliance and fraud checks for all channels can be accessed in parallel from CardX. Configurable timeouts and limits ensure the system keeps functioning smoothly at all times.
7x24x365 availability
Unlimited uptime with no service interruptions during maintenance of the core banking system.
Failsafe and scalable
Modularised processes that run independently in multiple (typically duplicated) instances.
Test tool for seamless security
Expandable, automated test suite that models every possible transaction and business case to test authorisations and correct processing within the core banking system.
Future-proof with new range of digital services
Cutting-edge performance and customer-focused services with optimised security and total control of sales.
Instant authorisation of payments
SIX Pialink version 6.6: ATMfutura (OTIS/OSTA), Debit Mastercard/Visa Debit, TWINT, QR code
Viseca Flexlink version 1.2: including ATMfutura functionality
ATM service: service for bank's in-house services such as specialised deposit devices or backup counter applications
QR code service: authorisation/reservation for ATMfutura QR code withdrawals
Pre-paid service: account authorisations for credits to pre-paid cards
SIC IP customer payments and banks' in-house instant payments being rolled out
Flexible management of payment methods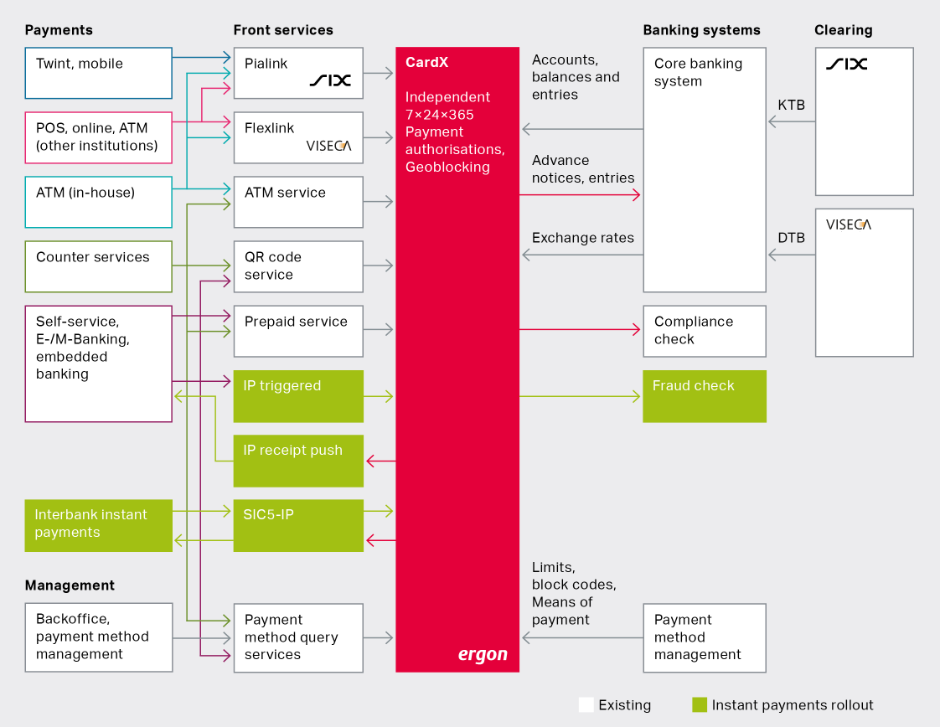 Customer service and helpline

Enquiries and notifications for transactions and transaction status
Limit enquiries, remaining overdraft, customer's currently available funds, support for customer queries

Enhanced security and monitoring

Precise limits per card, including settings for lifetime/annual/monthly/daily and transaction limits for a range of business scenarios (e.g. in-store or e-commerce, domestically or abroad, etc.)
Geo-blocking enables refusal of withdrawals in certain at-risk countries and prevents skimming
Glossary
ATMfutura
Protocol for latest generation of ATMs
DTB
Viseca interface for transaction clearing
Flexlink
Viseca interface for authorisation of card transactions
KTB
SIX interface for transaction clearing
OTIS
Online to issuer; element of Pialink
(availability authorisation for bank's own cards)
OSTA
Online to location; element of Pialink
(delivery of all transactions at bank's own ATMfutura cash machines)
Pialink
SIX interface for authorisation of card transactions
POS
Point of sale (e.g. card terminal in a branch of a Coop or Migros supermarket)
SIC
Swiss Interbank Clearing. Switzerland's central payments system run on behalf of the Swiss National Bank
SIC-IP
SIC Instant Payments. SIC payments processed in no more than ten seconds, 7x24x365
TWINT
Payment system for cashless payments via OTIS/Pialink
Existing interface links
Avaloq core banking system
Payment method management application

amétiq banking's CAS Avaloq module
Swisscom's CardOne
Simple linking to new core banking systems
Accounts and transactions: Account replication with event-driven calculation of account availability (Input interface CardX)
Transactions: Flagging and accounting interface (Output interface CardX
Exchange rates (Input interface CardX)
Payment methods: Payment method replication (Input interface CardX)
Licensing, maintenance and operation
One-off licence payment
Annual maintenance and support packages including interface updates due to regulatory changes
Operates via Swisscom as primary client, or on premise. Other operating models upon request.
Collective advantages
CardX has been running successfully at six Swiss banks since 2001. Collective use means shared costs and a reduction of risk in developing a sustainable solution. Driving innovation together helps create a better customer experience.
Are you ready for the future?