This article was published in the Ergon Magazine SMART insights 2022. Order your free copy now.
Axonlab intends to make work easier for medical professionals all over Europe. Such ambitious goals require sophisticated methods. And sophistication is something Axenita has plenty of. Axonlab's medical practice software combines the world of diagnostics with IT to reach a new level within the industry. CEO Roland Steger and CIO Martin Michel explain how they plan to make Axonlab the most important player in the outpatient healthcare market.
Axonlab is a specialist in medical laboratory diagnostics, software solutions and life sciences. Its web-based medical practice software makes life easier for more than 2,000 healthcare professionals throughout Switzerland. Originally the company, based in Dättwil near Baden, specialised in in-vitro lab diagnostics: the analysis of bodily fluids to diagnose medical problems. Now equipment and services from Axonlab are used by medical practices and clinics across Europe. The offering is extensive, covering everything from sampling to lab results.
Axonlab realised that going forward there was potential for using IT to significantly develop its range of products and services. The company got into software development. Its far-sightedness has been rewarded.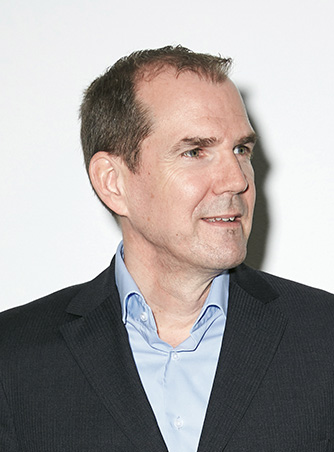 "Axenita's value proposition? An innovative solution that's intuitive to use."
Martin Michel
CIO, Axonlab
One point of contact for all cases
Axonlab's recipe for success lies in a combination of the company's history and its ability to simplify its offering. Axonlab's origins are in the medical industry – laboratory diagnostics. This has given the company a profound understanding of practice processes and workflows and the ability to respond precisely to customer needs. Axonlab only developed its IT capability later on. It's the other way around for its competitors, most of whom are IT companies developing medical practice software. This in-depth medical background gives Axonlab a clear advantage: its Axenita software is now the gold standard for medical practice information systems.
When practices test their patients on premises they generate a huge amount of precious data. Processing these data requires the right equipment. Errors can occur in its use. If an error occurs, all that doctors know is that a piece of equipment isn't working as it should. This forces them to look for errors. Axonlab has a one-stop solution to help them. Martin Michel explains: "Because we've brought together lab diagnostics and IT, healthcare professionals have a single point of contact helping them solve the problem, regardless of whether it concerns IT or diagnostics." This constitutes considerable added value for Axonlab's customers.
Axenita: practice software made easy
Healthcare professionals have to be able to work efficiently and effectively. They have to be able to offer their patients prompt, safe care, document cases of illness accurately and bill for services properly. Axenita is designed to support both medical practice assistants and doctors in their work so that they can concentrate fully on treating their patients. This is possible because the software is intuitive to use and based on state-of-the-art technology. Interfaces to other systems simplify processes such as booking appointments, billing, managing diagnoses and prescriptions, and lab orders.
Because it's highly sensitive health data that's being processed, IT security is high on Axonlab's list of priorities. The Airlock Web Application Firewall protects the 500-plus medical practices that use Axenita from attack.
Whether it's a medical practice employing three to five people or a network with up to 1,000 employees, you could say Axenita is the cure for inefficient processes – a cure which Axonlab will be glad to prescribe to other practices in the future.
Software that adapts to needs and over time
The medical practice software consists of diverse basic modules and various optional additional modules. This modular set-up enables flexible licensing so that customers only pay for the functionalities they need.
Compared with other industries, digitalisation in the healthcare sector is still in its infancy – not just in Switzerland. This means it's all the more important to be able to make adjustments to the software quickly and easily. Fast development cycles are called for. This requires a long-term concept to avoid a situation where the IT architecture is put in question five or six years down the road.
"We've learned that a strategic partner doesn't just execute jobs; they also share the responsibility, in good times and bad."
Roland Steger
CEO, Axonlab
Strong partnership creates room for new ideas
The first generation of software was developed in house more than 20 years ago. "When it came to the second generation we realised that we were going to need a partner with outstanding know-how in software architecture and data security. Ergon stood out in both technical and human terms. For me personally the human component is very important," adds CEO Roland Steger. "We've learned that a strategic partner doesn't just execute jobs; they also share the responsibility, in good times and bad. That removes a huge amount of strain and frees up energy for new things."
Driving international expansion forward
Axonlab has clear goals for the future of its Axenita medical practice software: it wants to lead the market in this country and become a long-term strategic partner to the healthcare industry. Axonlab is also investing in expansion abroad. The basic prerequisites are smart adaption to healthcare systems, regulatory and data protection requirements. If these prerequisites are met, the scalable IT architecture provides all the tools necessary for successful implementation.
The idea is for Axenita to become the primary tool for health professionals. This way Axonlab aims to become the most important player in the outpatient health market and a long-term strategic partner to the healthcare industry.
Our 3 hacks for trust and solidarity
Nurturing contacts
When it comes to building trust, nothing's more essential than regular, personal communication, regardless of whether it takes place physically or remotely via video calls. The pandemic has shown that the remote option also works very well.
Quality control
With companies growing faster than ever thanks to digitalisation, they need well established processes for quality assurance at all hierarchical levels. It's not about micromanaging; it's about intelligently fostering quality awareness.
Zooming out
IT is complex, and it's easy to get lost in the details. So now and then you should zoom out to get a birds-eye view of the whole picture.