Strategy or agility?
11.04.2018 – Michael Schröder
Expert article for Computerworld dated 11 April 2018
How can companies achieve real competitive advantages in the complex environment of constantly changing trends? This article proposes a combined approach of strategy and Design Thinking approaches.
Companies need to position themselves correctly with respect to digitisation from both external and internal perspectives, as well as from the perspective of their products. This is no easy task, as there are numerous developments and trends in all areas.
Competition in the tornado of changes
Digitisation considerations often begin with the external view, since this involves the company's customers and environment and these are typically subject to significant pressure to digitise.
Customers expect continuous digital user experiences. Every two to three years, new "good practice" approaches are added, e.g. augmented reality in the interaction with the customer.
Markets continue to develop rapidly worldwide. Competitors and non-market participants are threatening their own business, for example Alphabet and Amazon, which are pushing into more and more areas.
Physical becomes digital
From the point of view of products and services...
... physical products are "digitally enriched" (for example cars with connectivity and additional functionalities, including autonomous driving) or receive a "digital twin" (digital image of a physical object, including measurement data).
Digital services are offered in addition to the physical products. One example is smart valves in building automation, whose measurement data is evaluated to provide greater indoor comfort.
In extreme cases, the existing products or services are completely replaced.
Advantages for in-house processes
There are opportunities from an internal point of view as well:
The internally available data can be analysed in order to make better decisions, provide additional customer value or new data-based products. One example is the combination and analysis of various measurement data for "predictive maintenance" instead of fixed maintenance intervals.
Processes are measured more accurately, automated, or completely replaced. This can make companies' value creation much more efficient and qualitatively better.
For employees, new forms of cooperation emerge which extend across multiple locations and times. With the shift to the digital natives and Generation Y, new demands emerge: an agile, employee-oriented orientation is already virtually mandatory for knowledge-intensive sectors and must transform the existing culture.
From a technological point of view, new innovations appear in rapid cadence. They offer potential business cases, but must be mastered in their implementation and integrated into the current landscape. Current topics are Machine Learning and Artificial Intelligence, the Internet of Things, Augmented and Mixed Reality, and Blockchain.
In this "tornado" of ever faster changes, of opportunities and risks, it is important to make the right corporate decisions.
Combining agile and classic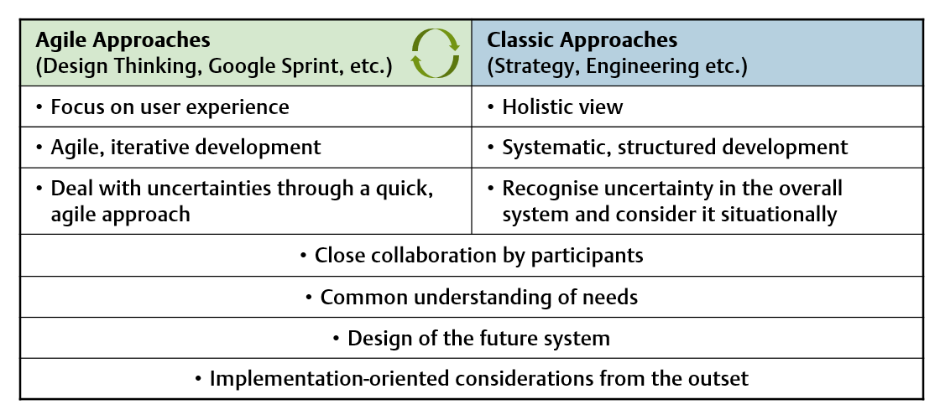 Today, there is strong enthusiasm for agile methods and Design Thinking approaches. Criticism of the "traditional" elaboration of strategies becomes: "Who still develops strategies? That would never be done in Silicon Valley!", goes the original quote by a participant in the context of a digital innovation project. In the process, strategies help to set priorities in the face of numerous uncertainties and imponderables, and to achieve a specific goal in the long term. We therefore suggest combining the best of both worlds (see Fig. 1).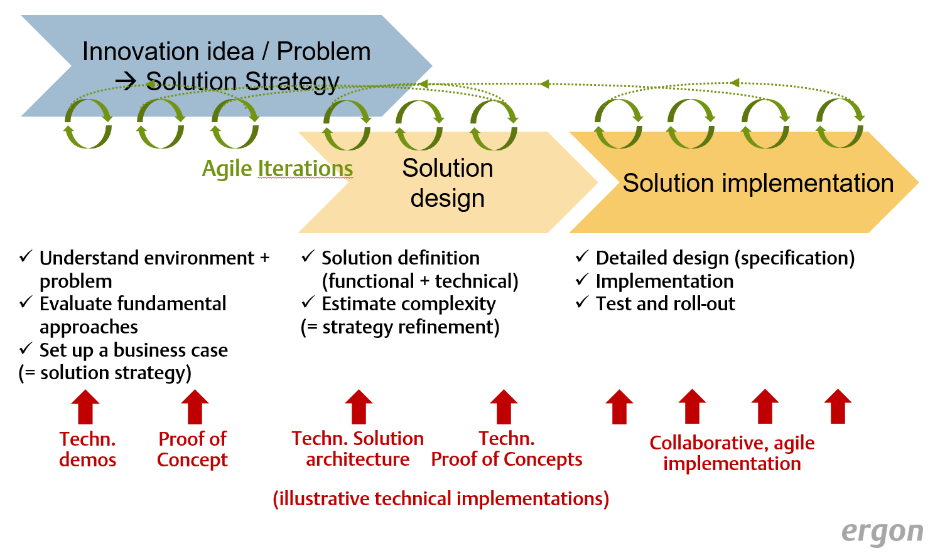 The common aspects indicate that both approaches are not as far apart as is often thought. Now it is important to integrate the specifics of each one into a common approach. This can be effected using e.g. the proposed phased approach (see Fig. 2). On the one hand, it contains classic elements (initial strategy/pre-project phase, dedicated milestones for budgeting), but also the essence of Design Thinking approaches (agile, iterative development with close user involvement and fast prototypes and tests).
The first phase in Fig. 2 shows the development of a solution strategy in which the problem is analysed and solutions are discussed and then implemented as a proof-of-concept/prototype. This results in a business case and a recommended approach. Iteration should already be worked on here, which gradually refines the idea. The design and actual implementation then follow with an agile and participative approach. The developed solution strategy is not a rigid corset but continues to evolve based on the experiences and feedback during implementation (illustrated as feedback loops in Figure 2).
Revival of individual software
Companies can gain competitive advantages, especially in terms of cost or differentiation, by making something better, faster, "more unique" than the competition. This has led to a "revival" of individual software in the area of innovation because it ideally supports these thrusts:
Strategically important processes are implemented faster via new innovation technologies, e.g. machine learning.
Company-specific approaches to differentiation are quickly and individually tested on the market without being incorporated into the roadmap of a standard product.
If the implementation partner speaks the same language and is in close proximity, the phases shown in Fig. 2 can be kept very informal and the iterations extremely short and agile.
Current examples of individual software development as the basis for competitive advantages are the online store and ERP of Digitec.ch, the software in the high-precision balances of Mettler-Toledo or – to name some Ergon examples as well – the new app-based pillar 3a solution from Viac or merchandise management from Coop. Without individual software, all the examples would not be possible in this unique form.
Conclusion
In the present digital age, trends and change are overwhelming. However, companies can achieve real competitive advantages by thinking long-term and holistically (i.e., "strategic"), while simultaneously implementing their specific innovation ideas in a short-term and agile manner (for example by using Design Thinking approaches).