Figures for the 2017 financial year
| | |
| --- | --- |
| Operating income in CHF million | 56 |
| Number of employees | 277 |
| Permanent positions | 247 |
| Full-time positions (FTE) | 224 |
| Graduates | 211 |
| Students | 10 |
| Apprentices and student trainees | 20 |
| Year established | 1984 |
Latest Annual Report
In our Annual Report 2017 you will find last year's milestones, reports on current projects, insights into our daily work and other company figures.
30 turbulent years in the history of IT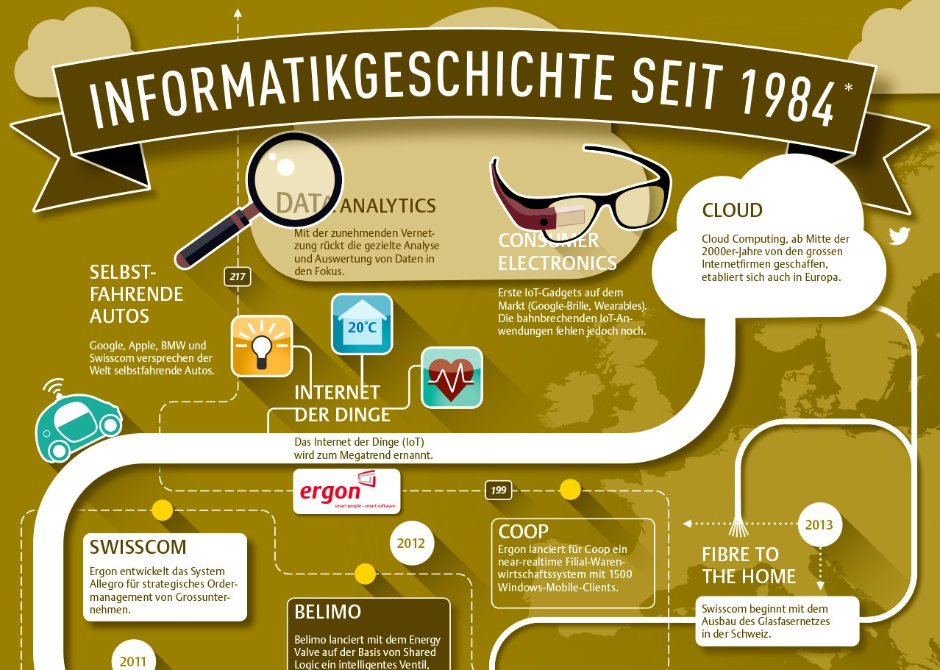 Our poster, "The history of IT since 1984" shows 30 turbulent years in the history of IT, whilst at the same time describing the development of Ergon. This glimpse into the past was designed for the occasion of the company's 30th anniversary, which we celebrated in 2014.
How it all started...
Ergon was founded in 1984 by Teddy Graf and Christian Juon. Right from the very start, the company focused on developing customer-specific software on the basis of open systems. In 1992, Christian Juon left the company, and the remaining eight employees jointly purchased the company's shares in an employee buyout. All employees became employers, who subsequently elected Patrick Burkhalter as their manager.
The years that followed, until the internet bubble burst, were characterised by rapid technological developments. In a pioneering way, Ergon often anticipated new technological trends, established itself as a provider of innovative applications and grew to 65 employees.
Thanks to the development of new markets and diversification in various sectors during the internet hype, Ergon was able to successfully offset the slump in the online environment at the turn of the millennium without having to make any redundancies. Spare capacity was invested in the development of solutions in the field of telecommunications and in increasing the efficiency of software development.
Since 2005, the various business segments have been growing continuously. The newly created departments operate on an entrepreneurial basis and focus on market segments and the distribution of corporate responsibility. Each department now has its own management team, which is responsible for projects and the fields of Operations, Business Development & Sales, HR and Technology. Employees from different departments who are responsible for the different fields regularly meet, together with management and staff units, to exchange ideas.