Belimo Shared Logic: software for a better climate
Zurich, 22.09.2011 – Reference Belimo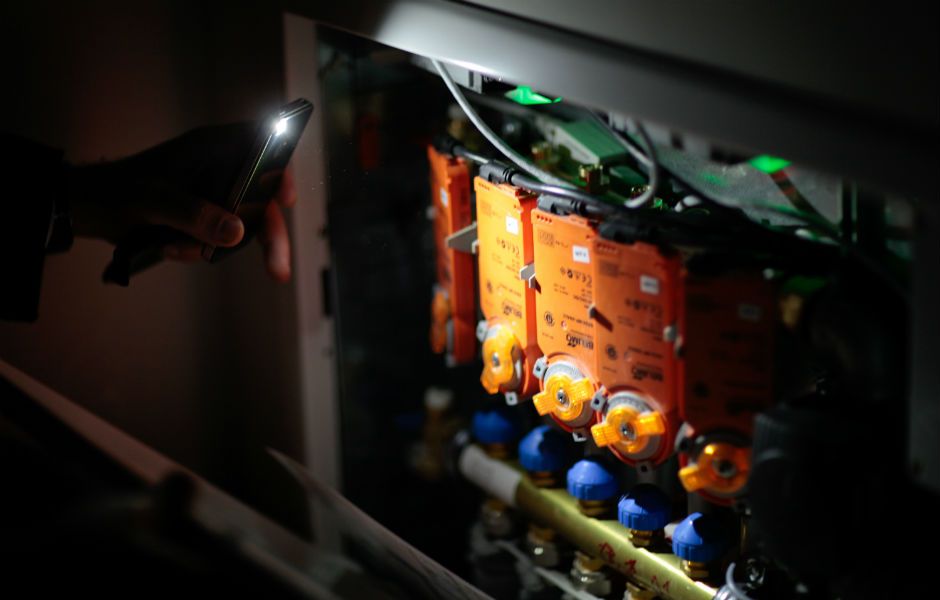 Belimo makes intelligent HVAC technology. With a flexible, IT-based platform actuators for air dampers and valves can operate independently, and interact with each other, using local logic. By optimising its air conditioning, the platform is already saving MIT USD 1.5 million a year. A smart heating system has also been installed in Switzerland. At the Rosengarten retirement complex in Stäfa, ventilation and heating are connected to ensure that residents enjoy the perfect interior climate at all times.
Hinwil-based Belimo was quick to recognise the potential of the Internet of Things (IoT). As long ago as 2006, the global market leader in electrical drive solutions for regulating and controlling heating, ventilation and air-conditioning (HVAC) systems had a vision. It was of a platform that would equip its damper actuators and valves with local logic and connect them with each other. In this way, systems can manage themselves and automatically become more efficient.
Combining HVAC technology and IT expertise
To put their ideas into practice, Belimo HVAC engineers looked to first-class engineering of a different kind: software from a company that was also experienced in ambitious research and development programmes. Daniel Roner, Head of System Innovation at Belimo, is confident: "In Ergon we found the ideal partner... although both sides were in new territory with this project, we understood each other right away. We got to work and made extremely productive progress from the start".
The product of this ground-breaking union between HVAC capabilities and IT expertise is Belimo Shared Logic. The platform is designed to offer maximum flexibility, and Belimo has since used it to develop other applications and products, and further extend its innovative lead.
Intelligent logic – automatic control
The first stand-alone product developed on the basis of Belimo Shared Logic, the Energy Valve demonstrates the platform's enormous potential. Launched in 2012, this intelligent valve is fitted with temperature and flow sensors, has an integrated web server, and is networked with other valves and the control station. The integrated logic means that the flow of water in the pipes can be controlled automatically, ensuring the temperature difference for heat exchange is always just right.
No programming skills required
Operators of large buildings can use the technology to slash their HVAC costs, because they can stop pumping too much hot water through their pipes, and the flow rate is always enough to ensure efficient heating or cooling. The Massachusetts Institute of Technology (MIT) was one of the first to adopt the Energy Valve. By optimising its air conditioning, it is now saving some USD 1.5 million a year in energy costs. With less cooling capacity required for each room, MIT can also space-saving equipment in due course.
Independent development and testing
It took a little more than a year to get the Energy Valve to market. This short lead time was achieved because Belimo's HVAC and electrical engineers were able to programme the product themselves, without any specialist knowledge, using the Application Designer function. This offers all of the basic functions needed to develop automatic controls as delivery-ready components. They can then be combined into logical program units and tested in a special simulation mode, so the indirect effects of the new controls can also be identified early on. The new software can then be installed and configured on the devices themselves (valves, damper actuators, etc.) using the integrated commissioning tool.
The flexible way to profit from progress
The well-thought-out architecture makes Belimo Shared Logic extremely flexible, and not just when it comes to developing new products such as the Energy Valve. The hardware can also be switched out with minimum effort, allowing operators to profit continually from advances in computer technology. How? Because the software stack was built from the start on independent Java technology. The Java runtime environment translates the system logic onto the hardware and operating system platform (Linux in this case).
The importance of being able to switch hardware components as required became clear even as the Shared Logic platform was being developed. At the time, standard processors simply got too hot, and would have overheated in a welded housing. Early work therefore had to rely on a specialist Java processor. The smartphone boom has since brought reliable, energy-saving standard processors to market at low cost. These also meet the special requirements of industrial use.
Coordinated heating and ventilation
The Rosengarten development in Stäfa on Lake Zurich is a good example of how different services can be controlled intelligently within the same building. In this retirement complex, Belimo Shared Logic is responsible for the operation, maintenance and diagnostics for heating and ventilation in each apartment. Connecting previously separate systems means that the interior climate can be controlled to achieve the perfect blend of comfort and efficiency, while remaining adaptable to the residents' personal preferences. They are able to set the underfloor heating and ventilation to suit themselves, and programme when it is on, using a simple control panel in each home, or remotely via iPhone. Engineers can also check and adjust these networked control units using an iPad installed in the cellar.